Blockchain technology brings potential applications in a different sector other than cryptocurrency.
Blockchain technology is next-generation business improvement software as it improves the business processes between the companies. It offers a lower cost of trust and thus significantly offers a higher return on investment than traditional internal investment. From clearing and settlement and insurance, financial institutions are exploring ways to use blockchain technology.
While the two hot buzzwords commonly heard these days are "Fintech" and "Regtech" but out of these there if we talk about blockchain technology it has brought revolution in various sectors. Nowadays banking and different governing and regulatory bodies are switching to blockchain for advance digital verification.
Let's read in detail where blockchain technology can be used?
For a wide variety of applications, we can use blockchain. This includes tracking ownership, a document proving, digital assets, physical assets, and voting rights.
As we all know blockchain became buzzword by Bitcoin and digital currency system but other than digital currency blockchain technology has enough potential to penetrate into other sectors such as finance, education, hospitality, regulatory bodies, etc.
Two main concepts of blockchain which are universal and applicable in all sectors
Secured business network

Decentralized ledger
This means participants can exchange and transfer assets in a secure way and they can have a copy of the content and stay in constant sync with other participants.
Document verification app developed using blockchain technology
As we all know the scope of blockchain technology is growing in this fast-developing technological world. Blockchain is a cluster of data and is not limited to cryptocurrency app development or digital currency storage and trading. It is penetrating into different sectors and out of which regulatory body is one. Thus we at GKMIT built an application using blockchain technology named KYC block
What is a KYC Block app developed by GKMIT?
It is an ecosystem to store, manage, and update statutory user data gathered from public and private sources. The unalterable hyper-ledger facilitates smooth KYC for individuals, companies and international trade transactions. It also helps financial companies to know about parties and transactions in near real-time. Documents submitted by the clients are auto-transcribed, encrypted, and then stored in the ISO and GDPR compliant storage. It allows its clients to use their own data centers and cloud storage. It is cloud-agnostic and is hosted on an Amazon web server.
Benefits of developing a digital verification app
Avoid fraud in document proofing

Secured network

Once data is entered it cant be deleted

Updates about document expiry

Generates combined reports from different vendors

Let us know about the blacklisted user or company.

Auto transcription and verification of documents provided

The single authentication mechanism for all third party partners

Hyperledger based Blockchain platform to store the verified documents

Message broker to auto authenticate documents with multiple report providers
Blockchain technology is now used in various sectors. The major five sectors using blockchain are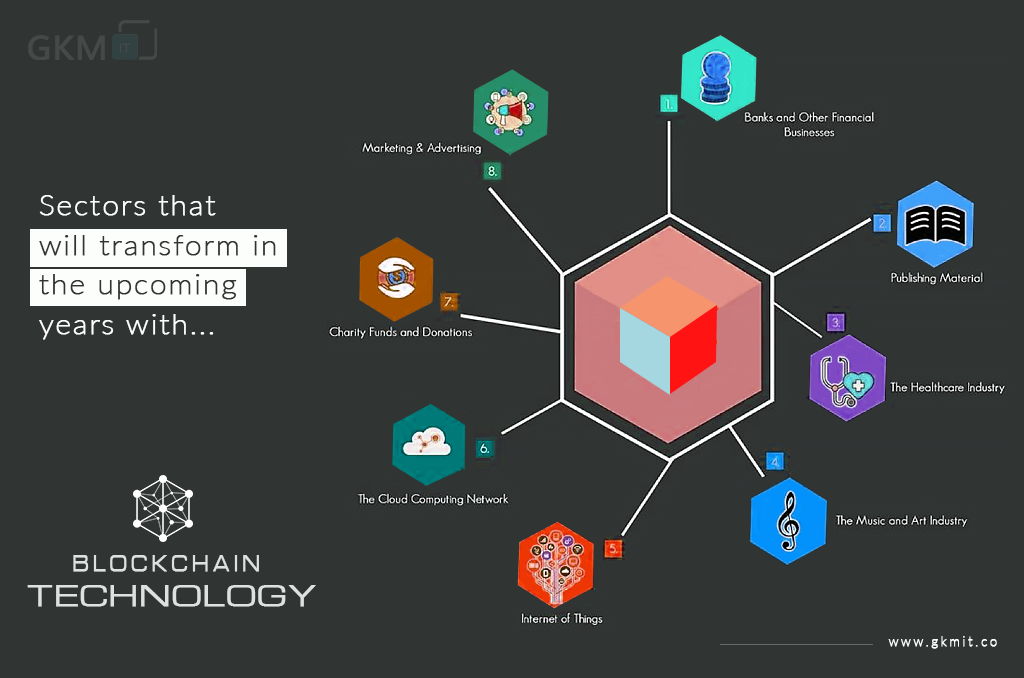 Financial sector

Information technology

Real estate

Education sector

Hospital
By adopting this technology, people around the world have changed their business approach. This next-gen technology is going to bring revolution in all big regimes.
Marvels of blockchain are spreading like a forest fire and all thanks to social media platforms. If you are also looking to get your next app build using blockchain technology than its the right time. If you have any queries you can leave your doubts in the comment section below or contact us at contact@gkmit.co
Now bring revolution in your sector by adopting this disruptive innovation and feel its far-reaching impact with various benefits.